Policy Committee Updates Policy Committee Meeting: The policy committee meeting for tonight has been cancelled. Building and Grounds Meeting: The building and grounds committee meeting will be held immediately following the Middle School Construction Meeting on Thursday, September 28th in the Middle School Cafeteria.

Busses are running approximately 10 minutes late tonight due to construction in Wellsboro.

We realize the construction is holding up arrival of students to school today. Please do not worry about being late. We will hold attendance until everyone arrives. Be safe.

Curriculum Committee Agenda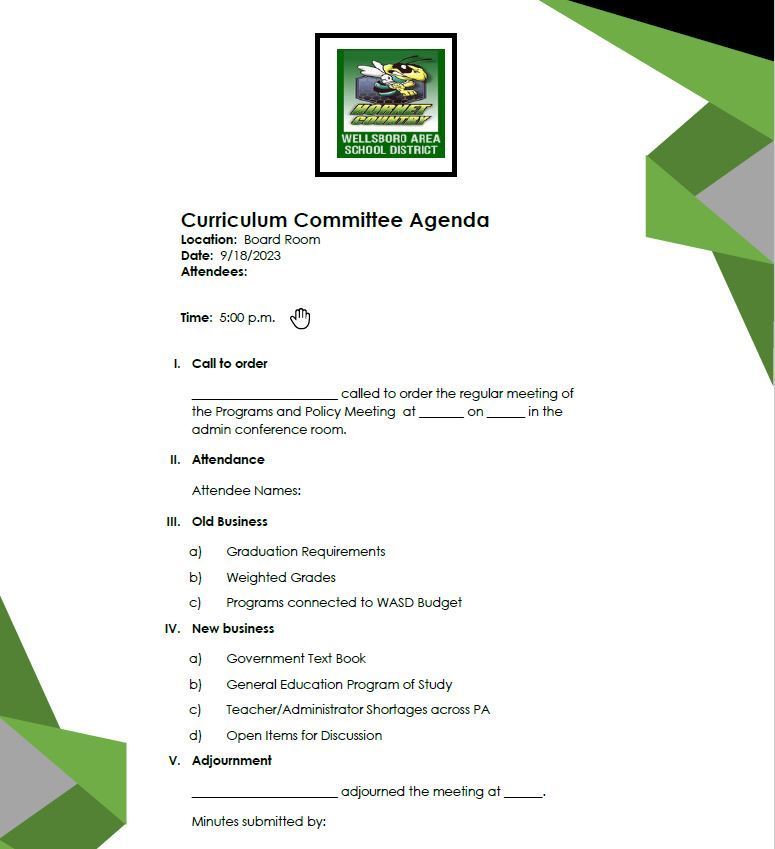 NOTICE OF CANCELLATION AND RESCHEDULING OF NOVEMBER 2023 SCHOOL BOARD MEETING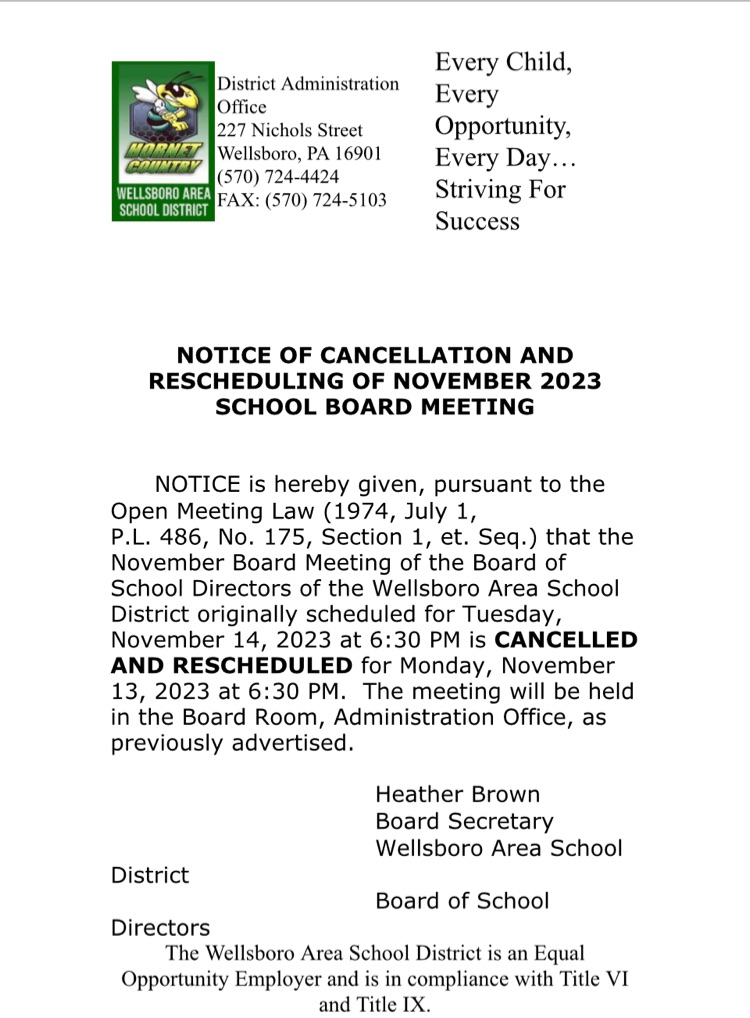 Rock L Butler Middle School PTO announcement

Due to the road construction in Wellsboro, some busses may be late in the afternoon dropping off students. We appreciate your patience.

School Safety Protocols for Random School Searches

Due to a lack of agenda items, the Personnel Committee Meeting for this evening has been cancelled.

Work Session Agenda for September 5, 2023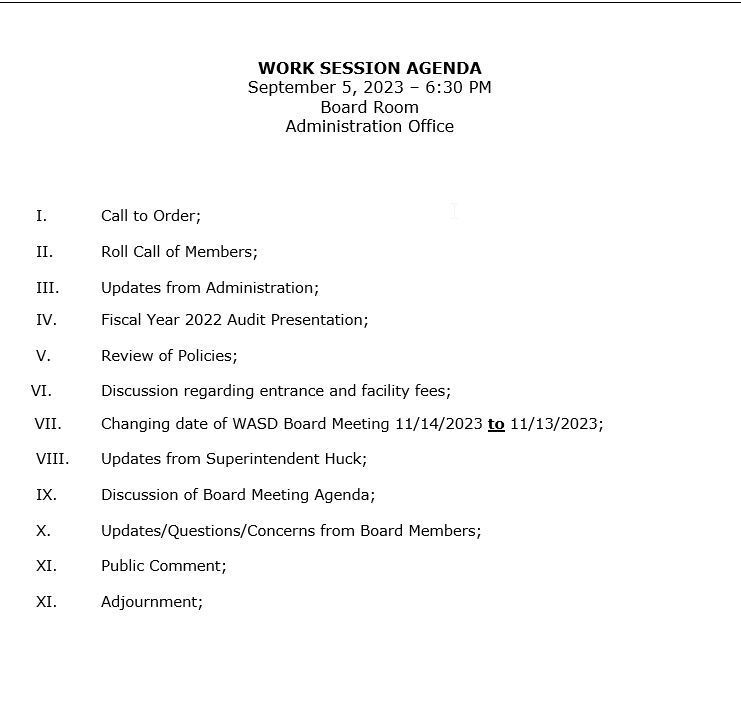 Good Afternoon. You may have inadvertently received an email today from me regarding overdue lunch accounts. Please disregard this letter as it was an error.  We apologize for the error.  Have a great weekend.  Mrs. Huck

The Building and Grounds Committee Meeting will be held tomorrow, immediately following the Middle School Construction Meeting at 9:00 a.m.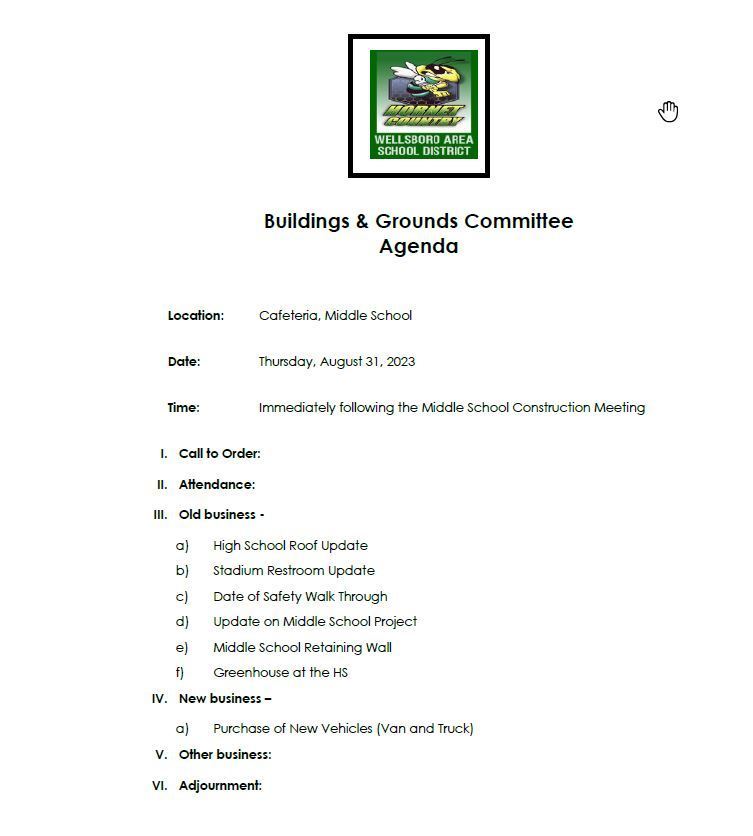 Due to a lack of agenda items, tonight's policy committee meeting has been canceled.

School starts today in the Wellsboro Area School District. Please slow down, watch for students, and stop for busses. Our students safety is everyone's responsibility.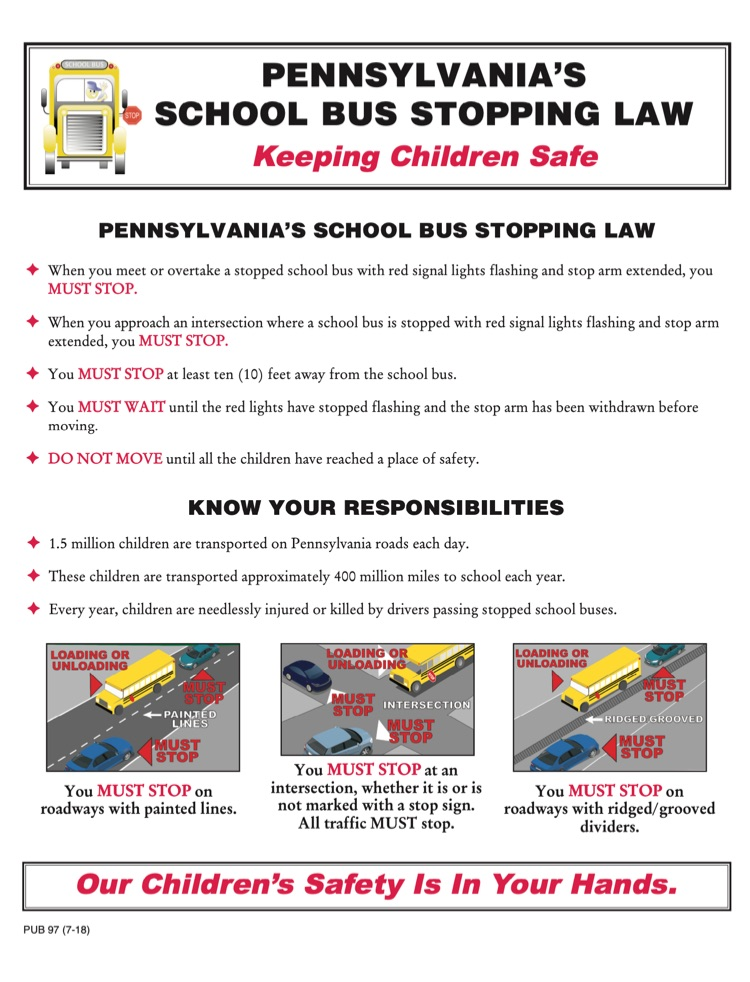 Message to 5th and 6th Grade Parents

Elementary Open House Tonight


Beginner Band Meeting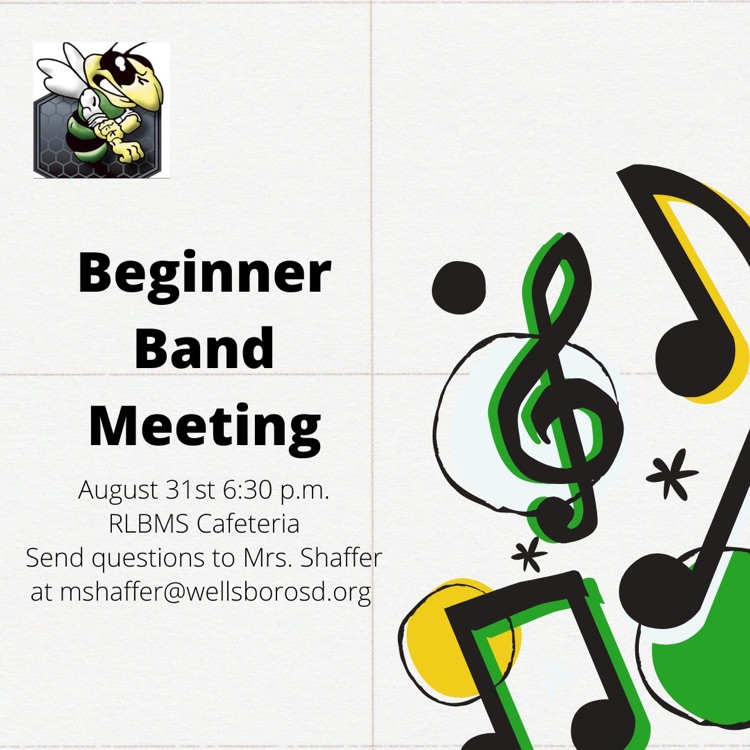 Vacancy of Middle School Volleyball Assistant Coach The Wellsboro Area School District is accepting immediate applications for Middle School Volleyball Assistant Coach ($1,439) for the School Year 2023-24. Interested parties should send letter of interest, support staff application, three letters of reference, resume and current Act 34, 114 and 151 clearances to Linda Gamble, Secretary to the Superintendent, 227 Nichols Street, Wellsboro, PA. Call the District Office (570) 724-0303 to obtain application or visit
www.wellsborosd.org
. Deadline: August 21, 2023 The Wellsboro Area School District is an Equal Opportunity Employers in compliance with Title IX, Title VI and Section 504.

Free Breakfast for all K-12 Students in PA for the 23/24 School Year